Latest News on Recipe for America
A
posted by Janet Chui 2013-08-02 11:41:15
A
permalink
A
posted by Janet Chui 2013-08-02 11:41:12
A
permalink
A
posted by Janet Chui 2013-08-02 11:41:08
A
permalink
A
posted by Janet Chui 2013-08-02 11:41:04
A
permalink
A
posted by Janet Chui 2013-08-02 11:40:58
permalink
More news from our favorite news sources!
La Vida Locavore
If books about food are on your list during the holidays, there are always the old favorites to give to food lovers. I find myself continually going back to books like Kitchen Literacy by Ann Vileisis, Twain's Feast by Andrew Beahrs, and Bottomfeeder by Taras Grescoe. Or there's Michael Pollan's latest bestseller, Cooked, which was without a doubt one of the best books I read all year. And I don't think any foodlover's bookshelf is complete without Wild Fermentation by Sandor Katz. But here are a few other new ones that are worth checking out.
Wild Flavors
Wild Flavors: One Chef's Transformative Year Cooking from Eva's Farm by Didi Emmons is a real winner. It's based on the author's experience on Eva Sommaripa's Eden-like farm in Massachusetts.
It's a cookbook with recipes, but it has so much more. It's organized around four of Eva's core principles: Community, Bartering, Preserving and Conserving, and Salvaging. Four things we could all do with more of.
In addition to the recipes, it also has full pages on vegetables, explaining how to grow, buy, store, and prep them, and why they are good for your health. And it tells how to use parts of the plant that many Americans just toss out - like beet greens.
Another bonus of this book: It's beautiful, with lots of colorful photos.
Cooking Close to Home
Cooking Close to Home: A Year of Seasonal Recipes by Diane Imrie and Richard Jarmusz is another cookbook full of gorgeous photography. As its title suggests, it's about eating local food. I'm not usually a cookbook fan because I prefer to improvise in the kitchen, but I find my mouth watering over Savory Apple Cheddar Turnovers and Garlic-Roasted Cherry Tomatoes with Fresh Basil and Goat Cheese.
The book is divided into typical cookbook sections like salads, soups, desserts, and so on, but each section is subdivided by season. (Of course, these seasonal divisions are less helpful if you live in California, where fall is the season of tropical fruit like passionfruit, guavas, and sapotes and winter brings on greens, peas, and carrots - but for most of the country, it works just fine. We Californians will just have to adapt.)
I would say more, but I think I need to go make the Kale and Fennel Salad with Apples and Cinnamon and then stuff my face with it...

About a year ago, I first heard about and then met Josh Robinson, founder of the San Diego Sustainable Living Institute. Actually, I read about him even before that, because his work was featured in one of my favorite books, Gaia's Garden. Josh is an expert in permaculture, a form of organic agriculture that was new to me at the time.
I knew this man had coaxed lush green plants and lots of food out of the desert in Tucson, AZ, before he moved to San Diego - without irrigation! - but I had never really seen him in action until this weekend, when I attended his workshops on passive rainwater harvesting and pond construction in Escondido, CA. All I have to say is: WOW!
This is a good read no matter where you live. Permaculture is applicable to all climates, not just those of us who live in bone dry areas like San Diego.
Josh began the workshop with some math. To find out how much rain falls on your roof (or on any space), multiply the square footage of your roof (or that space) by the number of feet of rain you get. Then, to translate that into gallons, multiply the number you've got by 7.48.
We get about 14" of rain per year, Josh said, so let's round it to 12" and call it a foot. And let's say we're looking at a roof that is 1000 square feet.
1000 sq ft * 1 ft rain * 7.48 gallons/cu ft = 7480 gallons of water
To put that another way, for every inch of rain that falls, that means 623.33 gallons of water fall on each 1000 square feet of space.
It's pretty common around here to get these little 55 gallon rain barrels. You put them near the downspout of your gutter and they gather all of the rain that falls on your house. You do the math. 55 gallon rain barrel... 623.33 gallons of water per inch of rain for a 1000 square foot roof... the rain barrel is going to fill up in the first few minutes of a rainstorm and the rest of the water is lost.
Of course, you can get a larger rain barrel. Thousands of gallons, even. And they are really, really expensive.
The point of the workshop is to see how to capture all of that water in addition to gathering it in rain barrels.
Josh also reminded us that in addition to the water from rainfall, a family can obtain more water by routing greywater into their yard. Just by doing laundry-to-landscape (i.e. routing the water from your washing machine out into the yard), an average family of four can obtain an extra 16,400 gallons of water per year. That figure is obtained by the average of 400 loads of laundry times 41 gallons of water used per load. If you do this, you want to use laundry detergent that is low in salts and then put that water into a spot somewhere where the laundry water can be watered down and diluted by salt-free rainwater.
Next, Josh did two demos. Most cities are designed like the upside down muffin tin he held up. That is, the houses are on higher ground and yards, driveways, and roads all channel water into lower ground, where it goes into the gutter. So what happens when it rains? Josh poured water over the muffin tin to simulate this. Of course, all the water ran off. In a typical year in dry San Diego, that's thousands of gallons of water lost for each property.

When it rains, landscapes shaped like this upside down muffin tin capture no water
What if we re-shaped our landscape so it looked like a right-side-up muffin tin? Josh flipped over the muffin tin and poured water on that.
Some "rain" still ran off, but some of it was captured by the muffin tin. That's the basic idea of rainwater harvesting.
Now he gave us an even more realistic demo. Here's a yard and a house, with two rain barrels. But what if the soil and the yard could also hold water? To simulate soil that soaks up water like a sponge, he used... a sponge. Or four of them actually. Then it rained.

Josh shows his scale model of a rain barrel, which he's putting next to the house.
After the rainstorm caused by the watering can, Josh poured the water from the rain barrel and squeezed the water from the sponges into a beaker to show how much water was caught. Answer: A lot of water.
OK, so aside from the rain barrels, how do we passively capture rainwater?
Scenario 1: Flat Ground
On flat ground, to gather water, dig a basin. The water that falls into the basin seeps into the ground instead of running off.
To keep the water from evaporating, fill the basin with mulch. The mulch harbors beneficial organisms, especially fungi, which trees love. It slowly breaks down, adding nutrients to the soil. And it keeps the soil nice and moist.

Diagram of basin with mulch in it.
Then - and this is key - plant trees. You can plant trees like willows that don't mind having their feet wet directly in the basin, or you can plant trees that don't tolerate waterlogging next to the basin. Their roots will find that basin and suck up and use all of that water.
Scenario 2: Sloped Ground
What if the ground is sloping down a hill? Obviously, if you do nothing, the water is going to run off, carrying some of your soil with it. In this case, you dig a swale. A swale is a ditch dug along the contour of the hill. That means that the bottom of the swale is completely flat, so that the water will spread out along its entirety instead of running to the lowest point.
When you dig your swale, obviously you'll be removing a bunch of soil and it has to go somewhere. You place the soil on the downhill side of your swale, creating a berm. It's a nice little barrier to give you extra insurance that the water you catch in your swale won't keep flowing down the hill.

Josh points to a swale and berm he drew
The swale fills up with water, which seeps into the ground. You plant on the downhill side of the swale. Again, plant trees. The tree roots will find the water reservoir in the soil.
Scenario 3: Really Steep Slope
If the slope is really, really steep, a swale won't work. Josh said that you know it's too steep for a swale when you toss the soil you dig on the ground below the swale to make a berm, and the soil just falls down the hill. Then it's time for terraces.
Hands On
We ended the workshop with a hands-on lesson. The workshop after ours would be a hands on laundry-to-landscape workshop. The place we were landscaping would actually begin receiving greywater from a washing machine very soon. And, as you can see, we were working on a slope:
In this area, there would ultimately be a path with metal arches over it, and the arches would support vines. Five arches, ten vines. On either side of the path, we would make five small swales and berms. And they would capture the laundry water and rainwater, providing water to the vines. (I don't know what kind of vines were planned, but I could imagine using passionfruit, grape, jasmine, or clematis. The former are edible, the latter smell nice.)
So, we started digging. Then, to stabilize the lower side of each swale, we lined it with rocks.

Another view of the swale. The rocks are on the downhill side. The bottom of the swale should be level ground so that the water spreads out along it evenly.

A row of swales on the uphill side of the path. The downhill side of each swale is lined with rocks. The vines will be planted in between the swales.
So that's the basic version of passive rainwater harvesting. In a second post, I will detail the workshop Josh did on how to build a pond and a swale. It will show how to use some tools to make sure your swales are built on level ground.

Americauna (left) and Cornish Cross (right) pullets. Phots by Joanne Rigutto
On my farm I concentrate on food production. Almost everything growing out here, be that grass, produce or animals, is geared toward that end, and one of my favorite foods is chicken.
I love chickens. I love working with them. I love eating them. I even love chicken manure because it's a great fertilizer. I think that there should be a chicken in every home and a chicken in every pot. The birds are good for so many things. They're entertaining, frustrating, provide us with eggs and meat. They're also very good at reducing the insect population and sometimes at reducing the crops when they get into areas where they're not supposed to be. That would be part of the "frustrating" aspect of chicken keeping.
The great debate over chicken covers production methods and also meat and egg production. Most commonly this pits pastured against conventional confinement systems with regard to animal welfare and health. But I'm more concerned right at the moment with breeds and flavor.
A few days ago I was offered some layer chickens and jumped at the chance to take them. They were Americauna chickens, also known as Easter Egg chickens. They were approaching the end of their producing lives but were still great for eating.
Ordinarily I grow the Cornish Cross chicken finished on pasture. The meat from the Cornish Cross is wonderful and the birds reach slaughter size faster than any other breed or cross that I know of. They have a lot of breast meat, large thighs and hefty drumsticks. They are also very tender, even when, as I am fond of doing, raised to 5 or 6 months of age for a very large bird.
Many people look down on the Cornish Cross. I've even heard some people say that they're "genetically engineered", which is total hog wash. The Cornish Cross is nothing more than the offspring of an Old Cornish hen bred to a White Rock rooster (both "heritage" breeds). The birds we see at the store, and indeed, the birds I raise on my farm, are the offspring of parent lines selectively bred so that when they are bred together, produce chicks that will grow very quickly and have excellent feed conversion (lbs. of feed in, compared to lbs. of meat you get, is feed conversion). If a person wants, all they need do to produce their own Cornish Cross, is get some Old Cornish hens and breed them to a White Rock rooster. Although your chicks won't perform quite as well as chicks from eggs produced by a commercial breeder (multiplier in industry parlance), you will, I think, wind up with a pretty hefty bird with better feed conversion than a bird like the Americauna pictured above.
While the Cornish Cross is excellent for roasting, fried chicken, and other, faster cooking methods, and Cornish Cross raised on pasture will have better flavor than those raised in your typical large scale confinement poultry farm, they just can't compare in flavor to the meat from a dual purpose bird (breeds developed for both egg and meat production) or from a breed that is primarily for egg production like the Americauna.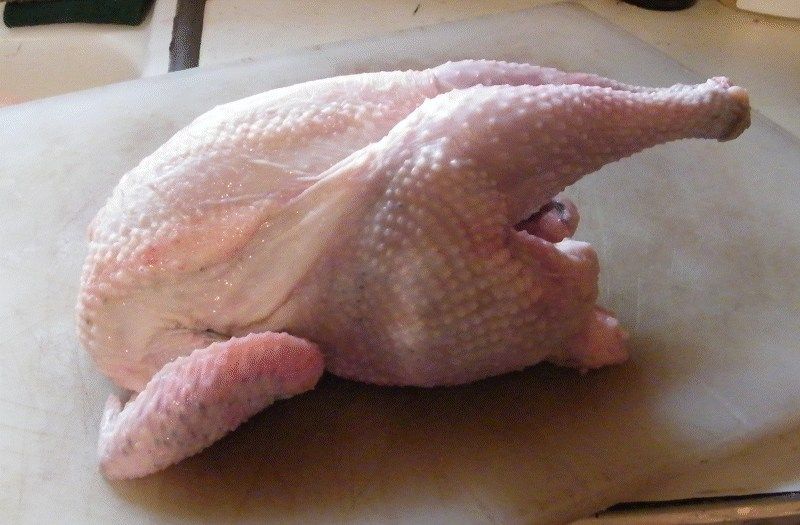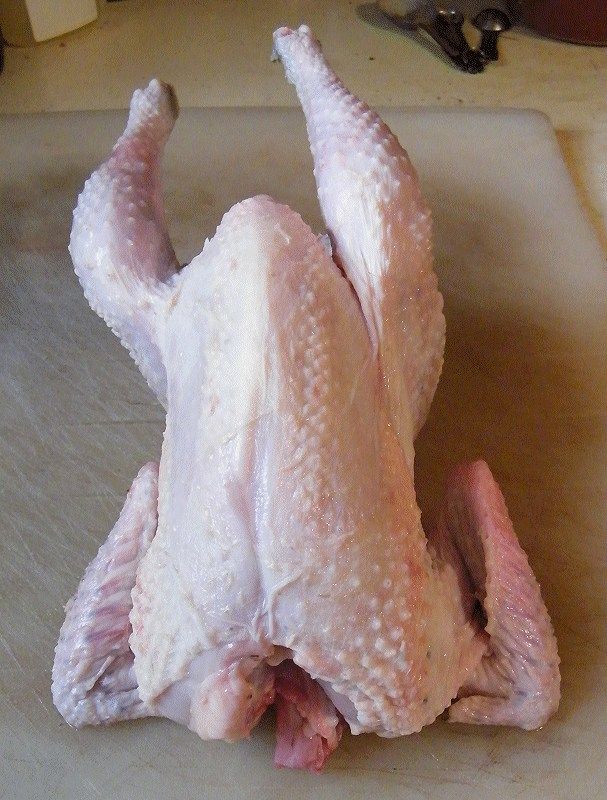 Americauna, side and top views. Not as much meat as a Cornish Cross, but oh so worth the effort!
To compare with a store bought Cornish Cross, view these images
here
.
The meat from some of these birds is more like pheasant than your run of the mill chicken, especially run of the mill chicken from the store. However, some caution must be exercised when cooking them. Unless you buy a bird that was raised strictly for meat, and therefore under 6 months of age, you'll be getting a spent layer. These are birds that will range in age from 1 1/2 years up to several years old. They'll give you a phenomenal meal, but only if you keep in mind that they aren't for frying. They're not even for roasting.
Nope, what these birds want is long, moist cooking. Braising and stewing. That's what these birds need. And while it will take longer, as the saying goes, "Good things come to them that wait".
You also need to keep in mind that these birds aren't going to have as much meat on them as your Cornish Cross, as the picture above illustrates. Some will have more than others. The Americauna has a carcass more like that of a very well fed pheasant. Heavier breeds such as White Rock, Barred Rock, Astralorp and Jersey Giant, will have more meat than a lighter breed like the Americauna, but still not like a Cornish Cross.
But that's OK. What they lack in breast meat they more than make up for in flavor.
The only exception I make to this is the White Leghorn. Even when they're fed well they just don't have much meat on the bones, and in my opinion, they're better for making stock or broth, than something like Chicken and Dumplings, which is what I'm going to make for y'all today.
Crock Pot Chicken and Dumplings
Ingredients -
Thighs, drumsticks and wings from spent layers
1 cup flour for dredging
1 T Garlic powder
1 T Onion powder
2 t fresh cracked black pepper
2 t salt
White wine (any medium to dry will do, I don't recomend a sweet wine for this dish)
Water
2 C beef stock
Lard or your favorite cooking oil
6 medium carrots
5 small to medium onions
The heart of one celery stalk (bunch) including leaves
Fresh Rosemary
Fresh Sage
For the Dumplings -
1 1/2 cup flour (all purpose white or whole wheat)
1 1/2 t baking powder
1 t sugar
6 T lard (or cold butter)
2/3 C cold milk (or whey if you have it)
Method -
Clean and cut up your chicken pieces.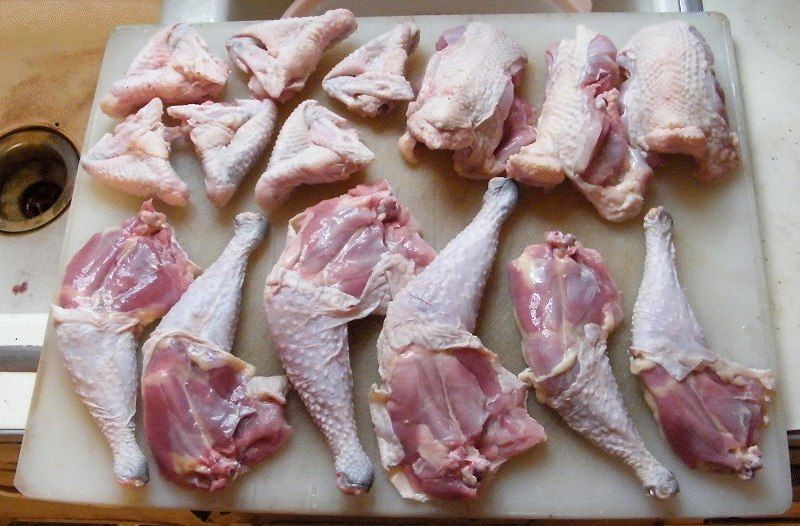 Chicken all cut up and ready to dredge. Look at that red meat! This is what makes these birds so good for this type of comfort food. It's also the reason why their flavor is so rich. I browned the backs too, but saved them for stock as I didn't want a bunch of little bones in the finished dish.
Dredge the chicken in seasoned flour and brown in some lard or cooking oil.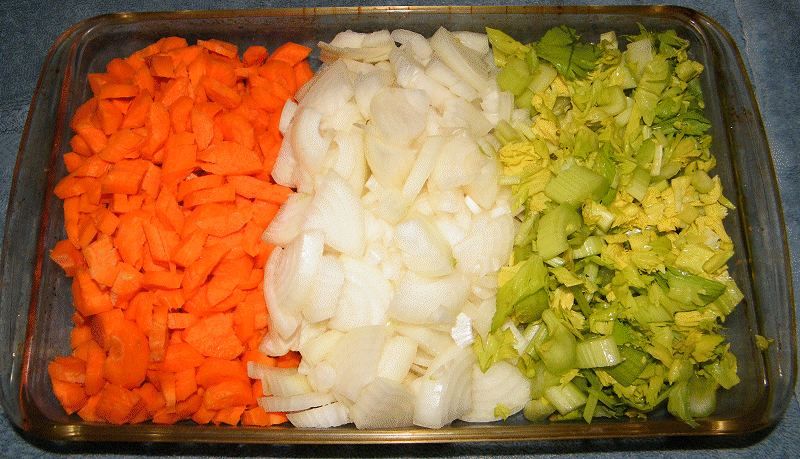 Peel the carrots and onions. Quarter the onions and slice, coarsely chop the carrots and the celery....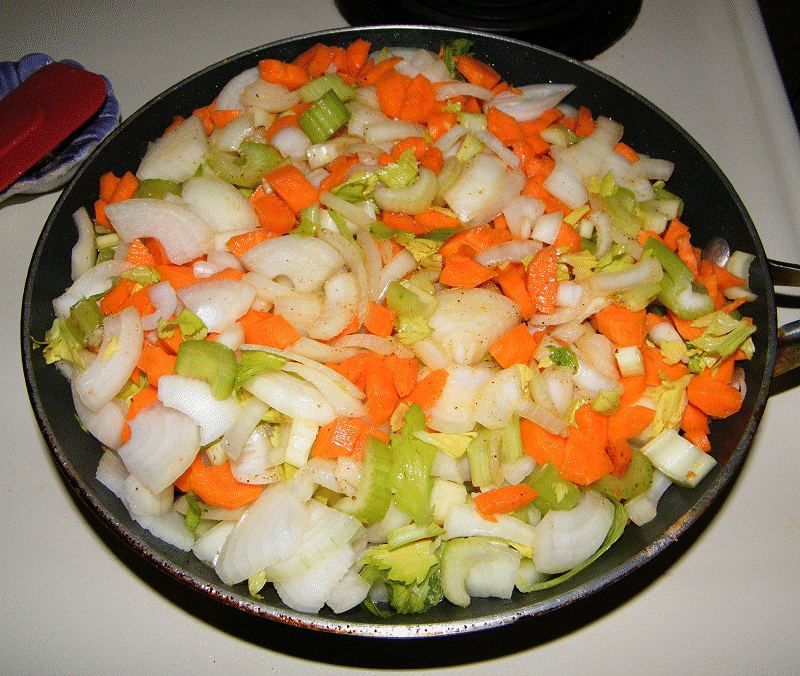 I probably should have done this in two batches, but it's all good, they cook down.
In the drippings from browning the chicken, sweat the onions, celery and carrots, together, until the carrots are soft, but not mushy.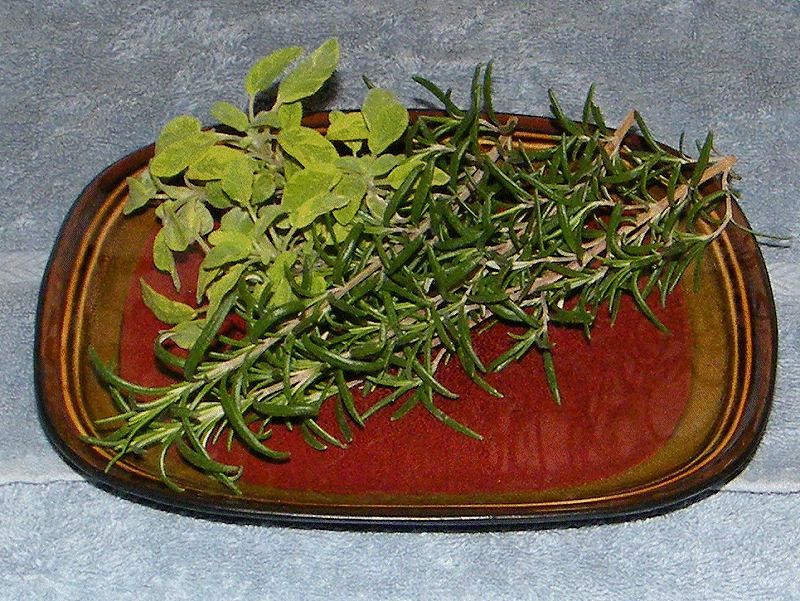 Mmmm, Rosemary and Golden Sage fresh from the gardens.
While the aromatic vegetables are sweating, chop up some fresh sage and rosemary leaves.
Layer the chicken pieces in your crock pot with the carrots, celery, and onions. Sprinkle a little of the rosemary and sage on each layer.
Cover with wine and and beef stock, then add just enough water to fill the crock to within one inch of the lower rim. Cover and cook on high for 7-9 hours or until the chicken is tender.
------------------------------------------------------------
When the chicken is done, make your dumplings.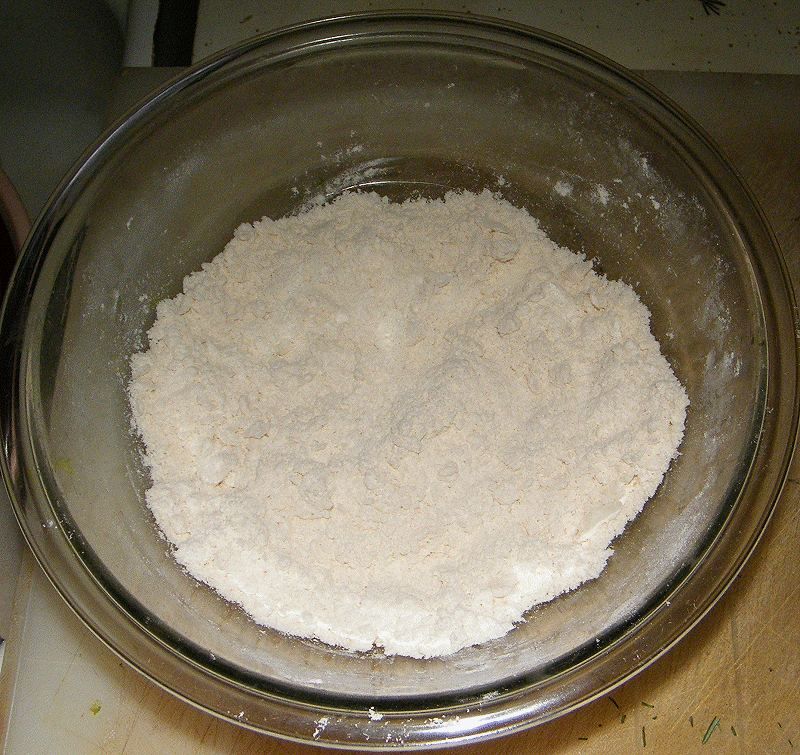 Combine your dry ingredients, then cut in the lard or butter until the mix has coarse granules.
Add the milk (or whey) a little at a time until you have soft wet dough. Mix until the dough holds together well, then remove the chicken pieces to a platter and drop your dumpling dough by the spoonfull into the crock, cover and cook for 20 minutes.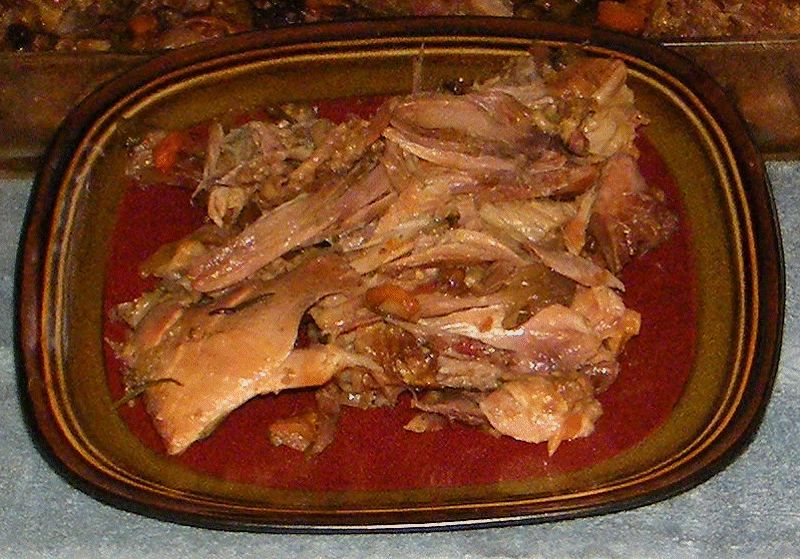 While the dumplings are cooking, strip the meat from the bones. You can shred it, but I like it in pieces like this.
Now that's what I call Comfort Food!
So remember, if you have the opportunity to purchase one of these chickens from a local farm, or if you have layers and they've come to the end of their productive lives, think about having one for dinner. They may be more work, but you won't be sorry.
This inspiring documentary film-in-the-making, Gleason Ranch: Risking Everything, tells the story of two sisters in Bodega, California struggling to keep their 5th-generation family ranch going after the sudden death of their parents. Filmmaker Morgan Schmidt-Feng has been documenting life on Gleason Ranch for over four years now. His inspiration for this project came from his desire to understand more about his own family's history. Morgan's mom, grandmother, and great-grandparents grew up on a 3rd-generation family farm in Badger, Iowa.
Every day, more farmland is being taken away from farmers. The future of family farmland is at stake. This film shows the human side of a much larger process, asking us what this means for our environment, as well as our humanity.
We believe that if we don't stand up for family farmers and their stories, our rural economies will fall apart beneath us. Help us complete the film and bring this incredible story to you. To learn more about the project and support our effort to complete the documentary please go to: http://www.indiegogo.com/proje...
Thank you so much.
Nicholas Carter
"The land is our identity. The animals we raise are our livelihood. We care for the land the same way our ancestors did. This is our home, and these are our children, our neighbors, our community we provide for." -Nancy Prebilich, Gleason Ranch
For more information: http://gleasonranchfilm.com/

In Japan there is a National Chrysanthemum Day that is called "The Festival of Happiness." For anyone who lives close enough to the New York Botanical Garden, Kiku: The Art of the Japanese Garden ends on Sunday. For this last weekend there will be a Bonsai display around the waterlily pond and Taiko Drummers on the lawn.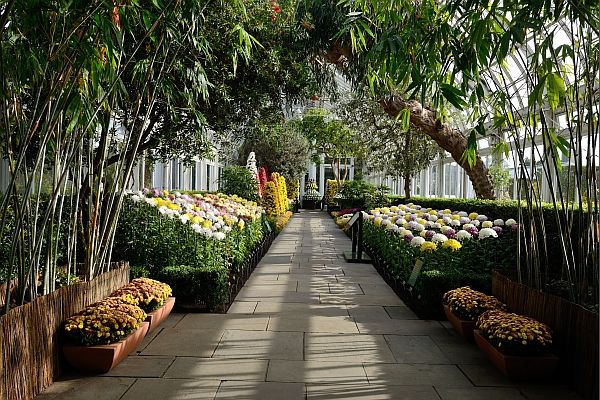 The photo above is an overview of the the look of the Enid A.Haupt Conservatory until Sunday. Below the fold is text and photos to explain this Japanese living art.
The name "chrysanthemum" is derived from the Greek words chrysos (gold) and anthemon (flower). You can see the similarity to the typical daisy.
From a western point of view the chrysanthemum is a member of that most successful angiosperm family called the Asteraceae. In terms of numbers of species, this family is rivaled only by Orchidaceae. What I find amazing is the efficiency of the Asteraceae. While the angiosperms appeared somewhere around 250 or perhaps as late as 192 million years ago with the great angiosperm radiation being about 100 million years ago, at least 50 million prior to the appearance of the Asteraceae, now these plants that were named for the Greek word meaning "Star" are either the first or second dominant species of flowering plants on earth. The Sunflower is a familiar member and the Aster is the most prominent genus of this family. During this Eastern Chrysanthemum season you can see the similarity in the Aster that now dominates our Western forest.
Most species of chrysanthemum originate in East Asia and the center of diversity is China. The chrysanthemum is one of the The "Four Gentlemen" in Chinese art. The four plants that are used to depict the unfolding of the seasons are the plum blossom for spring, the orchid for summer, the chrysanthemum for autumn, and the bamboo for winter. "Chu" is honored by the Chinese city Chu-Hsien which means Chrysanthemum City. In the Chinese autumn chrysanthemums play a significant role in the Double Ninth Festival.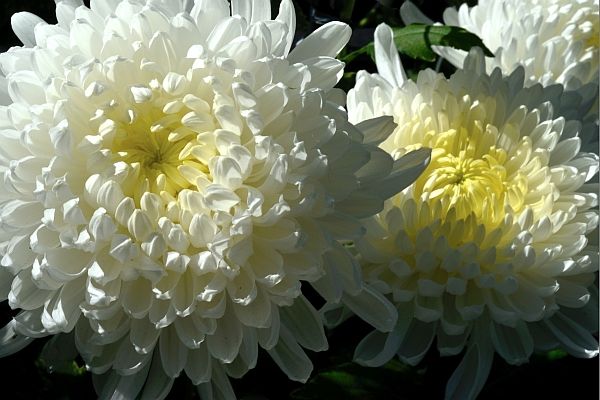 Since being exported over to Japan in 8th century A.D. the flower has found an even more important role in Japanese culture. The chrysanthemum has influenced western art for many years but for centuries to the Japanese this flower has been an Imperial horticultural art. Around ten years ago New York Botanical Garden began sending gardeners to Japan for a fascinating cultural exchange and to learn this art form. The Palm Court of the Enid A Haupt Conservatory reminds me of this cultural chrysanthemum bridge.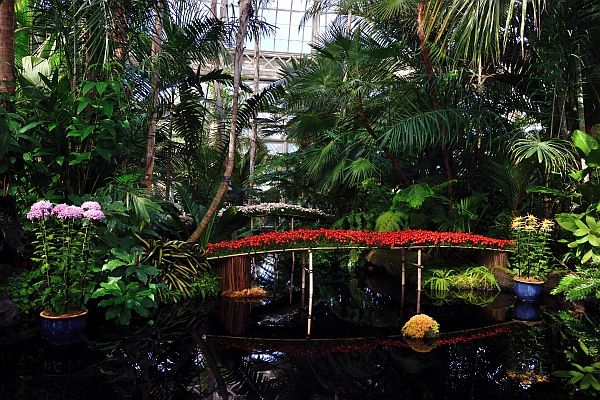 So taken were the Japanese with this flower that they adopted a single flowered chrysanthemum as the crest and official seal of the Emperor. The chrysanthemum in the crest is a 16-floret variety called "Ichimonjiginu." Family seals for prominent Japanese families also contain some type of chrysanthemum called a Kikumon - "Kiku" means chrysanthemum and "Mon" means crest. In Japan, the Imperial Order of the Chrysanthemum is the highest Order of Chivalry.
The chrysanthemum is the official flower of Japan and has become a symbol of longevity, power, dignity and nobility. In the Japanese garden the cycle of life from birth to death is reflected in the quiet passage of a year in the Garden. The chrysanthemum that is also a metaphor for homosexuality in Japanese poems is celebrated each autumn in Kiku Matsuri throughout the parks, gardens and homes of Japan.
Akihito is the is the 125th Japanese monarch to occupy the Chrysanthemum Throne. While the cycle of life has been honored for generations in the Japanese garden the four Imperial styles of kiku that are presented in the Enid A. Haupt Conservatory Courtyards were once shared only with a select few and the art of Kiku was a closely guarded secret. After a five-year cultural and educational exchange, gardeners at The New York Botanical Garden learned this art from Kiku master Yasuhira Iwashita and other Japanese Chrysanthemum Masters. Some of these Japanese traditions are very labor intensive and the autumn displays are the result of much patience and skill.
Ozukuri or "thousand bloom" is what I find to be the most fascinating. A single chrysanthemum plant is trained to produce hundreds of simultaneous flowers in a massive, dome-shaped array. An illustration beside the Ozukuri uwaya in a previous year helps to explain this painstaking effort that produces a miniature hill of flowers from just one plant!

Once these plants are ready for display they are shown in specially built wooden containers called sekidai. At that point the supporting collars have become complicated frameworks that lead up to and support each individual flower. This year instead of a sekidai, Ozukuri is under glass.
Kengai or "cascade" which actually translates to "overhanging cliff," is not from one or two plants trained but hundreds of smaller flowered chrysanthemums. These flowers are trained on a boat-shaped framework that is then angled to resemble flowers growing down the face of a cliff.
Kengai has been familiar to western gardeners for many years and is also called the "bonsai chrysanthemum" because the method is a common practice used to evoke age with the miniature trees. This year's display in the conservatory.
Ogiku or "single stem" display are plants trained to reach up to six feet tall with one enormous perfect flower balanced on top.
Each uwaya features exactly 108 single-stemmed plants placed in diagonal rows. The diagonal rows of flowers in pink, yellow, and white are meant to echo the colors and patterns of the tazuna, the bridle reins of the Japanese emperor.
In previous years Shino-tsukuri or "driving rain" was displayed. I did not see any this year but there is a newer discipline on display. The view below is a more recent method where bonsai and chrysanthemum are combined. Flowers are trained around a piece of wood that was found on the garden grounds to mimic the shape of a meticulously manicured bonsai.
And then there is the newest addition that everyone seems to be calling Chrysanthemum Christmas Trees.
Another Ozukuri in this year's show.
One more of my favorite views from this year's Kiku: The Art of the Japanese Garden.
And that's the end of the tour.
Oh wait, that's not how the poem goes. Well, gathering acorns is what I did this Saturday. Specifically, acorns of the California black oak, Quercus kelloggii, which grows in the mountains east of San Diego.
Details and photos below.

Acorns from the California Black Oak
There are two acorns which are preferred for eating in our area - Coast Live Oak and Black Oak. Black Oaks are reputedly better tasting (I haven't tried them yet) and they are more inconvenient to find if you live in the city of San Diego. You find coast live oaks all over near the coast (as you might expect) but to find the black oaks - head east and up. Up into the mountains, about 4000 feet up.
From what I've read about traditional Kumeyaay acorn gathering, most sources say they gather them after they fall from the tree but before it rains. Any acorn with a hole in it was eaten by a bug. The bug hatched inside the acorn and made the hole to escape. So don't collect acorns with holes. The acorns in the mountains are gathered before those on the coast, because it gets colder in the mountains. I've heard one might even gather acorns in the mountains as early as September. Around the coast, November is a more typical time.
With that in mind, I took the 8 east and then headed north up the 79 toward Descanso and Julian. As you start driving along the 79, at first you only see coast live oaks, not black oaks. Their leaves are very different shapes, and the black oak leaves change colors and fall off, whereas coast live oak leaves stay green. The other problem as you drive is that so much of the landscape burned in the 2003 Cedar Fire, including the oaks. (This is not the case as you continue on to Julian or the Lagunas, but I didn't want to drive more than I had to.)

Black oak leaves starting to change color
I was looking for an area with mature black oaks at least 100 yards from the road, to (hopefully) avoid pollution. I started seeing signs for Cuyamaca Rancho state park, although I don't think I was actually in the park. All over, I saw dead, burned trees.
Finally, I found an area with some older black oaks, visible from the road and not too far away but certainly at least 100 yards. But there was no place to park. A little further up the road, I found a small parking lot. It was for a hiking trail across the street from my oaks. I parked and walked off to the oak trees.

The view from my car. Can you see the grove of trees? It was a long walk through tall grass with no trails. As I walked, I found a snake skeleton, which reinforced the wisdom of what I was already doing: watching very carefully where I stepped to avoid snakes.
In the middle of the meadow, there was a stream that I had to walk through. There, I saw one of the two species of juncus used in basketry and plenty of cattails.

Juncus acutus. The Kumeyaay use this for twined baskets used like a colander to leach the tannins out of acorns, and they also use it in the interior of their more typical coiled baskets.

Cattails. These are edible, and also great as tinder if you need to start a fire.
As soon as I passed a pine, I knew I was in luck for acorns. The pine was used as a granary tree by Acorn Woodpeckers. It was full of acorns from black oaks.
It took about an hour to gather about three gallons of acorns, plus some time walking too and from the car. Some trees had many below them, some had very few. I hear that oaks produce a good crop about every other year. The problem for me was the large amount of wild rose growing up around the base of the trees. Better wild rose than poison oak, but I got quite scratched up as I gathered the acorns. There was also lots of mugwort, which smells great and thankfully doesn't have thorns. And I found a bit of yarrow - a handy herb to rub on my bleeding scraps from the rose thorns. One of the wild rose plants had tons of ripe rosehips, so I gathered those too.

My acorns. It doesn't look like much but it's about 3 gallons. And hopefully I didn't use as much gas to go get them. Next time I go, I'm packing a picnic lunch and staying longer to get more acorns.
So the next step between gathering acorns and eating them is waiting for them to dry. They dry in a few weeks if you remove the shells, but inside the shell they take a few months. They'll be ready to go around January or February.
In the meantime, I'm heading back to the mountains to get some more acorns. And then I'll get some coast live oak acorns too, because those can be eaten but they can also be made into a coffee-like drink that is caffeine free but tastes identical to coffee.
If you want to try acorns, be sure to leach out the tannins before you eat them. Here is a site with info and recipes, or you can use my instructions on how to make the traditional Kumeyaay staple, shawii.
Pot Luck is an open thread...

You know what? Farm work is EXHAUSTING. You can file that under "duh" of course, but after living it for a few days I feel like I really get it. Only I don't, because the farmers worked harder - and longer hours - than I did.
And yet, all of the work comes with beauty, love, joy, and plenty of good food.

An apple tree in front of the Owens' house
Ruth and Derek Owen are up well before chores start at 6 a.m. Around 6, the three different coops of chickens are let out for the day, their food and water is refilled, and eggs are gathered. The largest group of chickens are the layers, but there is a group of meat birds and a third group of pullets - young females who are older than chicks but not quite laying yet. On my last day there, I found an egg in the pullets' coop, so I guess they are no longer officially pullets.
The meat birds are getting too big for their coop, so we moved 10 of them in with the pullets a week ago. They'll be slaughtered soon - first the 10, then the rest - and the pullets will move in with the big girls since they are starting to lay now and they need access to nest boxes. The Owens free up space in the henhouse by selling off old layers and old roosters for a few bucks apiece, usually to immigrant families.

Meat birds. I hate these dumb things. One of them bit me a few times. Hard.
During the day, the chickens get checked again at 9am and then again around 3pm. The eggs are then brought from the henhouse to a desk in the house where Derek grades them. After dinner, the doors to their coops are shut for the night to keep them safe from predators.

Refilling buckets of water for the chickens.
Then there are the cows. They are brought in both in the morning and the late afternoon for milking. There are only four cows right now, and only two have milk. One is a little steer named Pascal (no milk from him) and another is a very pregnant cow named Hildy. Lisa (Pascal's mom) gets milked in the morning, and Carl (yes, she's a girl) is milked before dinner.

Carl, with Lisa in the background

Carl with the OTHER Lisa in the background, milking her.
Milking is done by hand, often by a volunteer named Lisa. And yes, I believe Lisa the cow is named for Lisa who milks her. Aside from milking, most of the work with the cows just involves getting them to come in and go out again at milking time. They all come in whether or not they will be milked. Hildy is so pregnant right now - she's due in October - that she doesn't really like to walk. Pascal, on the other hand, is a total kid and you can see him running around alongside the grownups.

Hildy, Carl, and Pascal. Pascal's the little one.
The cows are Guernseys, an excellent dairy breed that is not as good for beef. They occasionally breed their cows to Guernsey bulls, hoping that the offspring will be a female who can eventually produce milk. Guernsey bulls are eaten as veal, although I am sure they are not treated badly at all during their short lives. But Pascal is a cross between Guernsey and a different breed, and he'll be raised until the age of two and then butchered as beef. The ladies all stick around as long as they produce milk and then they are slaughtered for meat. A dairy cow can remain productive for a decade or more, but Lisa might not be kept so long because she is so difficult to milk.
Emily, the big fat piggy, needs to eat twice a day. She gets about a cup of pig feed each time, plus odds and ends like rotting peaches, apples, tomatoes, or ears of corn. In this picture, she's very pregnant and going to give birth the next day.
Then there's Gloria and her crew, her four piglets who are a month or two from slaughter.
Gloria and co. eat twice a day as well. They get much more pig feed than Emily, plus plenty of nice food scraps. Anything good and mushy or crunchy that the cows don't want go to them. They won't eat onions or things like cabbage, but they'll eat just about anything else. Especially acorns. Feeding the pigs is a very entertaining time on the farm.
When Derek approaches with the food, the pigs go NUTS. Sometimes, he has to toss loaves of stale bread or ears of corn out to lure the pigs away from their bowls, just so he can get in there and fill them. First, he gives them pig feed. But Mama Gloria doesn't want that. She wants the good stuff, as you can see here:

Gloria, waiting for the good stuff, even though her bowl is full of pig feed.
The pigs move from bowl to bowl, each trying to get the tastiest morsels for themselves.
And sometimes, one pig gets a bit possessive, and whacks the others away from a bowl with his or her snout:

Not the best picture, but you get the point
After Derek feeds the pigs, he also feeds food scraps to the cows. They love apples, any leafy greens, and - believe it or not - citrus. In order to discourage them from standing in one spot in the field as they eat, the food is scattered over a large area. In this shot, Derek is driving while a volunteer sits in the back and tosses the cows' supper out behind her:
In addition to pigs, chickens, and cows, the farm has horses and sheep. I'm less familiar with the horses, but there are four of them. They are brought in and out of the barn during the day, and I helped with that once or twice. Horse duty also involves removing manure and horse piss from the stalls - it felt exactly like cleaning a very large litterbox - and feeding them the hay and other treats they get to supplement the grazing they do during the day.
When the sheep come in at night, they get hay, grain, and some other treats like apples. The ones that aren't nice enough for people to eat, that is.

Korey greets Tiny Dancer outside the sheep shelter.
Next door to the sheep, but not in any photos, is Oscar the bunny. He's got a little yard outdoors and he gets his share in the treats too.
One day, we collected apples off the ground. Another day, we picked the last of the peaches. Some peaches are eaten fresh, some went into a pie, and some will be sold. I'm sure some might be made into jam as well. The apples, if they are in good condition, will be eaten or made into cider. Apples that don't look so good are fed to the cows and sheep.
I also picked a few pints of raspberries. It wasn't much - certainly not enough to sell - but it's late September and I saw a ton more raspberries growing. I wasn't quite sure if I was there too late for berries or too early for them.

Ruth makes pie crust. This is the real deal - she used lard in it.

She made two pies - a lemon one with a lemon I brought and raspberries I picked on the left, and the peach pie on the right.
During the day, Ruth also made yogurt, kefir, and butter.

Heating the milk to make yogurt

After the milk has been heated to 170F or so and then cooled to about 115F, you add the cultures and keep it warm for at least four hours. Ruth makes yogurt in these quart jars.

Cream, ready to be churned as soon as it reaches the right temp, just below 60F.

At this point, it's like whipped cream. Not so long after this, it almost magically separates into golden butter and white buttermilk.

The butter is rinsed and lightly salted, and then it's ready.
Then there's the garden:
Ruth shakes her head at this picture because she says the garden is a mess. With so many animals to care for, perhaps less energy has gone into the garden. But I still found carrots, parsnips, tomatoes, basil, lettuce, and kale from there. Not to mention edible weeds :)
As you can guess, the food on the farm is out of this world. The Owen's own meat, butter, yogurt, kefir, milk, eggs, homemade granola, homegrown fruit and veggies, honey, and even their own maple syrup. And although they don't eat it, they get wool from their own sheep. Ruth taught me how to spin it into wool. Lisa the volunteer (not Lisa the cow) is a fiber artist, and she dyes the wool into beautiful colors. The ones I saw from her were all done with plant dyes.
What the farm doesn't do is make anyone rich. But it does make a lot of people happy. Several times a week, a local mental health program brings over patients to work in the garden (they have their own plots) and with the animals. The Owens also offer workshops. These provide additional revenue streams for the farm - probably badly needed ones since so much of what is grown is consumed on the farm itself.
So what do you get for all of this hard work, if not money? For me, living with Ruth and Derek and their community of volunteers for a few days was an amazing treat. You won't find better people anywhere. Life on their farm provided a sense of community, beauty, and joy that I have only found one other place - in a village in Kenya. And that's something that money can't buy.
I'll leave you with a few "glamor shots" of their beautiful farm. If you'd ever like to volunteer there yourself, you can find them at Owenfarm.org.

Believe it or not, the foreground of this shot is the pigpen.

Rodent control. Well, not really, actually. October here is not who you'd turn to if you have a mouse problem.
Organic Consumers Association